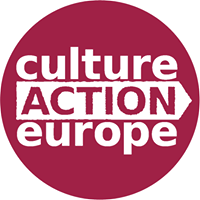 On 12.06.2020, more than 90 members of Culture Action Europe (CAE) met for a digital General Assembly, for board elections and for agreements on further joint initiatives and priorities in 2020.
The Board reported on activities in 2019 and 2o2o along Culture Action Europe's strategic goals:
– Advocacy for the culture sector against the background of negotiations of the new EU Multiannual Financial Framework 2021-2027 (MFF) and in particular for an appropriate recognition of culture in the new "Next Generation EU" instrument and as part of the "REACT-EU" initiative
– Working conditions in the cultural sector in Europe, with particular attention to income conditions and social security for artists
– Freedom of expression and cultural rights, with the aim of drawing up the necessary legal frameworks for this at EU level and in the member states
– Artistic and cultural research, especially the so-called STEAM practices: Science, Technology, Engineering, Arts and Mathematics
The role of culture for sustainable living as well as the digital paradigm shift in the cultural sector – also accelerated by COVID19 – emerged as possible new and accompanying focal points in the discussions following the Board's report.
In view of the COVID19 crisis, Culture Action Europe, together with the European Cultural Foundation, has been mapping measures and emergency initiatives across Europe (compensations, dedicated funding, combined efforts or public and private actors, information sharing etc.) to tackle the effects of the crisis on the arts, culture, creative sectors and cultural heritage.
CAE and its members have addressed political actors at EU and member states level with several letters, on the one hand to clarify how beneficiaries of the Creative Europe programme should currently deal with the challenges posed by COVID19, but also to continue to advocate doubling the budget for Creative Europe in the new MFF.
What this means in figures: Of the 2021-2027 budget for Creative Europe proposed by the EU Commission some time ago, only a smaller amount of 1.5 billion is now included in the current MFF proposal. If this amount were actually doubled, the total budget for Creative Europe 2021-2027 would still not even correspond to 0.4% of the new "Next Generation EU" development instrument!
Simona Neumann (Managing Director of Timisoara 2021 – European Capital of Culture) was re-elected to the Board of Culture Action Europe. Further candidates were Celia Grau (Opera Europa Advocacy Coordinator) and Teemu Mäki (IAA Europe).
More information, the agenda and further summaries of the assembly can soon be found on the  website of Culture Action Europe.