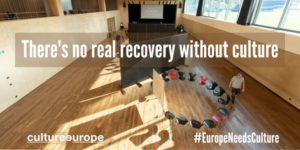 "A deal is essential", writes Charles Michel, president of the European Council, ahead of the EU summit on 17 and 18 July 2020, where an agreement for the EU-Multiannual Financial Framework and Recovery Plan is being sought.
Equally essential is a sufficient funding of culture in the EU budget, now, and in the coming years.
3000 cultural professionals, artists, creators, authors stand behind Culture Action Europe' petition, which you can sign here.
These voices make it clear: "There is no proper recovery without culture and no culture without proper budget."
Many artists like a.o. Björk, Marina Abramovich, Agnieszka Holland, Isabel Coixet, Milo Rau, Jean Michel Jarre, Anne-Teresa Keersmaeker and many more are loud on calling the EU and national leaders to "be bold" and invest in culture at the EU level. Read their letter here.