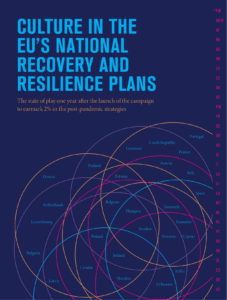 14 countries out of 261 – 53% of the total – have included culture in their
NRRPs. The analysis stemming from this overview proves that at least 2% in the EU26 – i.e., around 12 billion euros – has been mobilised for culture.
In a public online event on December 9th, Culture Action Europe presented an overview of the place of culture in the National  Recovery and Resilience Plans (NRRPs) of the Member States of the European Union. The publication is a part of the #CulturalDealEU campaign and backed by the European Parliament, to specifically earmark at the very least 2% of each NRRP for culture. Roughly half of the remaining Member States have not featured any specific interventions for culture in their NRRPs. Several of them, from Germany to Sweden, from Luxembourg to Denmark, have nonetheless put forward national schemes to sustain the cultural and creative sectors.