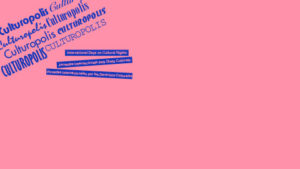 In November 2023, the European Secretariat of German Cultural NGOs participated in the annual Culture Action Europe Conference and -Members Forum in Barcelona. The four-day event was organized under the title Culturopolis: International Days on Cultural Rights together with the Barcelona Cultural Institute and in partnership with United Cities and Local Governments (UCLG). The aim of the conference was to promote knowledge transfer and relations between cultural practice and -research.
The international program included various formats: from an academic congress, to open debates on participatory projects, to a marketplace on access and participation rights in cultural life, in cultural work, sustainability, diversity, and in digital environments.
To highlight different ways of exercising cultural rights, a selection of public, private and community projects was presented with a wide range of backgrounds. Thus, it was possible to illustrate different perspectives from European, local and grassroots levels. Furthermore, multidisciplinary research was invited for inputs, ranging from topics such as cultural mediation in public policy, cultural spaces and disability, to gender justice.
In addition, the conference gave stage to an artistic program with shows, concerts, interventions, radio programs, performances and artistic workshops. All events were related to the exercise of cultural rights and sought to raise awareness among participants and encourage the participation of cultural professionals and the general public.
The CAE Members Forum was held after the last conference day and welcomed the new Secretary General of Culture Action Europe, Lars Ebert. He will take office on 01 January 2023.